Dallas-based technology and systems integrator GDT announced at its Annual Spring Fling Bar-B-Que, May 3rd, that Youth Hope Association will receive this year's $10,000 winner's donation.
GDT's Annual Spring Fling Bar-B-Que was started in 2014 by GDT CEO J.W. Roberts to further the company's fun atmosphere while benefiting local charities. The event pits GDT Account Executives, cross-departmental teams, and external technology partners against each other to determine who can smoke the best brisket and ribs.
The Spring Fling Bar-B-Que is centered around a 19-hour, highly competitive cooking event, featuring state-of-the-art smokers, secretive, pre-event meetings, and closely guarded recipes. A great event full of food and fun, it provides the perfect environment for camaraderie and relationship building for the over 300 GDT employees in Dallas. And, of course, a winner is awarded who unveils their selected charity to receive the $10,000 donation. GDT Account Executive Brent Beasley, who captained the winning team, selected Youth Hope Association.
Beasley commented, "Our annual Spring Fling Bar-B-Que is one of the many marquee―and outrageously fun―events our marketing team produces each year, but being able to donate $10,000 to a great organization like Youth Hope Association makes it even more special."
GDT's Annual Spring Fling and Bar-B-Que is one of many examples of the company's work hard, play hard philosophy and its ongoing commitment to giving back to the D/FW community.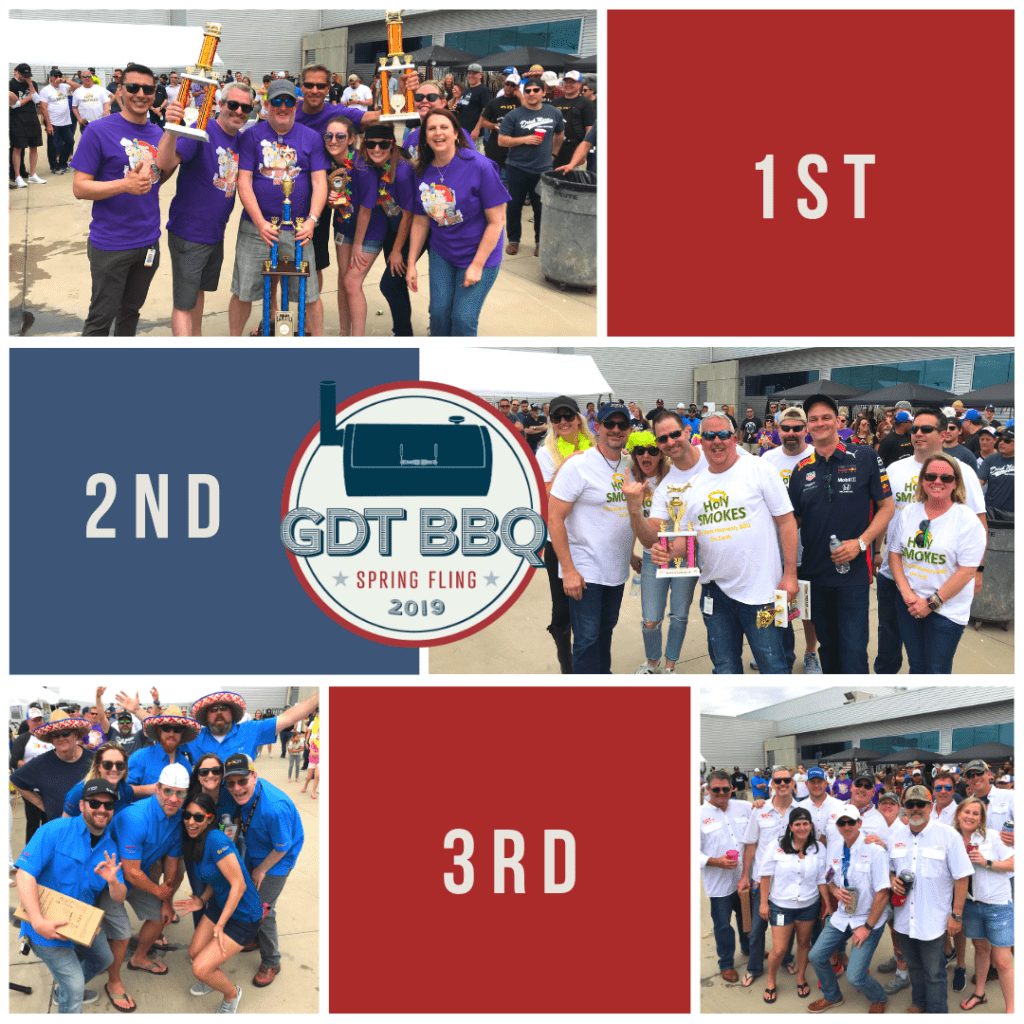 About Youth Hope Association
Youth Hope Association understands that a pediatric medical event not only impacts a child undergoing treatment but the entire family. By hosting interactive, theme-based parties, YHA's goal is to provide families with hope, laughter and time together. They believe that if we can help take patients' minds off of their medical condition, if only for the short time our volunteers are with them, then we are making a difference. The planned activities cater to children but are enjoyed by all ages. Learn more at youthhopeassociation.org.
About GDT Founded in 1996, GDT is an award-winning, international multi-vendor IT solutions provider and maintains high-level partner status with several of the world's leading IT solutions and hardware providers, including HPE, Cisco and Dell EMC. GDT specializes in the consulting, designing, deploying, and managing of advanced technology solutions for businesses, service providers, government, and healthcare. The GDT team of expert architects and engineers maintain the highest level of certifications to translate the latest ideas and technologies into innovative solutions that realize the vision of business leaders.