Businesses seeking to modernize need a flexible, scalable, and cost-effective hybrid cloud platform. They need end-to-end visibility, insights, and control to meet security, performance, and budget goals. They need a simple and standardized platform with the flexibility to pivot rapidly. And they need automation capabilities to drive efficiency and mitigate risk.
A recent study by Cisco indicates widespread hybrid cloud adoption, with 79% of their respondents currently operating a hybrid cloud. Nine out of ten respondents work with multiple platforms, and nearly 60% shift workloads on and off-premises weekly. Furthermore, they use different platforms for different purposes, such as security management, business agility, lower cloud services costs, and disaster recovery.
The reality is that hybrid cloud is the new design center and plays a starring role in modernization. In this article, I'll explore how GDT is leveraging a converged hybrid cloud solution from Cisco and NetApp to help organizations overcome complexity and meet their business needs more cost-effectively. If you want to dive deeper into this topic, take a moment to register for our upcoming webinar, GDT Hybrid Cloud: Modernize with Cisco + NetApp, on June 14, 2023 (more on that later).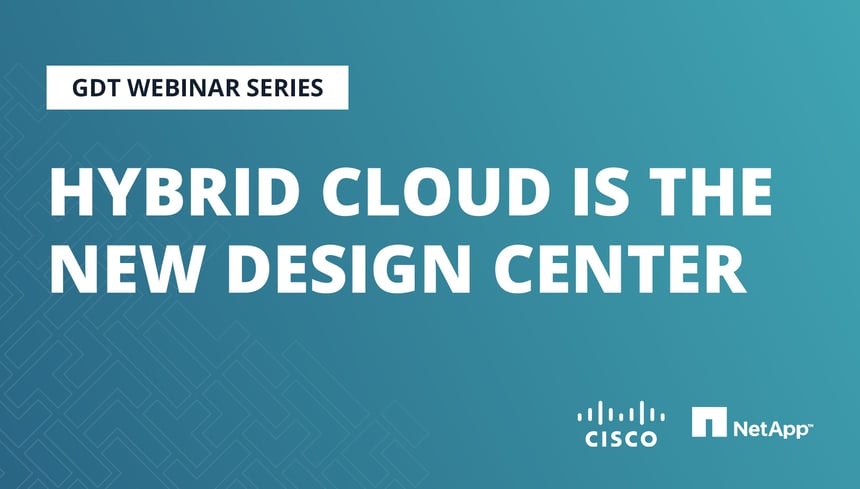 Businesses face multiple challenges around hybrid cloud
When it comes to hybrid cloud adoption, we know that businesses face substantial challenges. Many don't have the internal skillsets or resources. They may struggle with where to start and how to move forward. They often don't know where to put their workloads, which platforms or cloud providers to use, how and when to migrate and modernize applications, or how to build in scalability without blowing the budget.
Meanwhile, the typical enterprise company spends millions of dollars every year on new technology, with most purchases containing software or maintenance subscriptions. Unfortunately, most lack unified insights across their IT infrastructures, and they often resort to manually compiling information (or worse, not compiling it at all), leading to outdated insights, security and compliance risks, underused assets, and, ultimately, higher costs.
Cisco + NetApp: A modern converged hybrid cloud platform
Overcoming these challenges and simplifying complexity is what GDT is all about. And one way we're doing this for our customers is through a cost-effective, converged hybrid cloud platform from Cisco and NetApp. This converged hybrid cloud platform combines Cisco's advanced networking and security capabilities with NetApp's robust data storage and management technologies. When implemented by a leading hybrid cloud expert like GDT, the result is a highly secure and scalable platform, streamlined operations, and comprehensive infrastructure visibility and control—all at unrivaled value.
Enjoy industry-leading benefits
Here are a few of the many things I like about the converged hybrid cloud platform from Cisco and NetApp.
End-to-end security: The platform enables businesses to build a more secure and resilient data environment, protecting critical information from cyber threats with ransomware protection, recoverability, and alerting.
Unified visibility: Single-pane-of-glass visibility across the infrastructure, enables organizations to monitor and manage storage, compute, networking, cloud resources, and virtual machines from one place.
Operational simplicity: Built-in automation and workflows simplify day-to-day operational tasks such as configuration, deployment, expansion, and infrastructure optimization.
Increased efficiency: Additional built-in capabilities allow organizations to streamline infrastructure, optimize storage resources, and automate workflows to accomplish storage and virtualization tasks in tandem.
Streamlined data management: The platform also offers enhanced data management capabilities, including faster data backup and recovery, improved data protection, and simplified data migration.
Dynamic scalability: Flexible and dynamic data center architectures scale to meet changing business needs, no matter which cloud providers are used.
Better, more sustainable performance: We're seeing businesses achieve up to six-fold greater performance at the compute layer, providing opportunities to shrink infrastructure and reduce greenhouse gas emissions by up to 85%.
Cost savings: This platform also enables businesses to maximize their investment by consolidating infrastructure and leveraging advanced, built-in capabilities. Benefits include reduced operational expenses and licensing costs and improved resource utilization.
GDT Hybrid Cloud Webinar: Modernize with Cisco + NetApp
The converged hybrid cloud platform from Cisco and NetApp truly simplifies hybrid cloud, delivering incredible benefits—especially when delivered by the experts at GDT.
That's why on June 14, 2023, at 11:00 AM EST, GDT is hosting a free webinar to dive into this cost-effective converged hybrid cloud platform. Together we'll explore how GDT leverages Cisco + NetApp to deliver industry-leading benefits and dive into capabilities like hybrid cloud connectivity, built-in automation and workflows, and hybrid-cloud-as-a-service. We'll also give you a tour of the architecture and how it enables a secure experience across multiple cloud providers. And we'll walk through real-life case studies and scenarios.
Register for the GDT Hybrid Cloud Webinar: Modernize with Cisco + NetApp. If you don't want to wait for the webinar, no problem – contact us today!