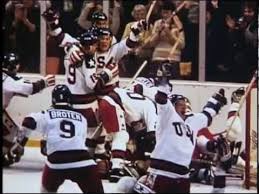 By Richard Arneson
It's one of those "Do you remember where you were when…?" questions, at least for those at least fifty-years-old. And it didn't just affect those in northern, hockey-friendly states. People as far south as Texas stopped their cars at the side of the road and began honking their car horns, then breaking into The Star-Spangled Banner and America the Beautiful while passing motorists sprayed them with wet grime. It was Friday, February 22nd when radios nationwide announced that the impossible had occurred at the 1980 Winter Olympics in Lake Placid, NY—the United States hockey team, comprised primarily of college-aged amateur athletes, had just defeated the Soviet Union Red Army team, considered by most familiar with the sport as the best hockey team of all time.
The closing seconds, announced worldwide by legendary sportscaster Al Michaels, became arguably the most well-known play-by-call in sports history:
"11 seconds, you've got 10 seconds, the countdown going on right now! Morrow, up to Silk. Five seconds left in the game. Do you believe in miracles? YES!"
Legendary for several reasons
The game, which Sports Illustrated named the greatest sporting event in American history, is legendary for other reasons, as well. The TV broadcast of the game actually occurred later that evening during prime time on ABC, and was part of the first television transmission that utilized fiber optics. While it didn't deliver the primary TV transmission, it was used to provide backup video feeds. Based on its success, it became the primary transmission vehicle four (4) years later at the 1984 Winter Olympics in Lilliehammer, Norway.
Why fiber optics will be around―forever
It's no wonder fiber optics carries the vast majority of the world's voice and data traffic. There was a time (late 1950's) when it was believed satellite transmission would be the primary, if not exclusive, means for delivering worldwide communications. It wasn't the Olympics, but a 1959 Christmastime speech by President Eisenhower to allay Americans' Cold War fears that was the first delivered via satellite. But if you're a user of satellite television, you've certainly experienced network downtime that comes with heavy cloud cover or rain.
And wireless communications, such as today's 4G technology (5G will be commercially available in 2020), requires fiber optics to backhaul data from wireless towers back to network backbones, which is then delivered to its intended destination via…fiber optics.
The question regarding fiber optics has been debated for years: "Will any technology on the horizon replace the need for fiber optics?" Some technologists (although there appears to be few) say yes, but most say no―as in absolutely no. Line of sight wireless communications are an option, and have been around for years, but deploying them in the most populated areas of the country―cities―is impractical. If anything stands between communicating nodes, you'll be bouncing your signal off a neighboring building. Not effective.
Facebook will begin trials in 2019 for Terragraph, a service they claim will replace fiber optics. Sure, it might in some places, such as neighborhoods, but is only capable of transmitting data to 100 ft. or less. It's the next generation of 802.11, but, while it's capable of transmitting data at speeds up to 30 Gbps, it's no option for delivering 1's and 0's across oceans.
Fiber is fast, it's durable, and it lasts a long time. Yep, fiber optics will be around for a while.
Did you know?
Fiber optics can almost travel at the speed of light, and isn't affected by EMI (electromagnetic interference).
Without electricity coursing through it, fiber optics doesn't create fire hazards. And add to that fact―it's green, as in eco-friendly green. And it degrades far less quickly than its coax and copper counterparts.
Fiber is incredibly durable, and isn't nearly as susceptible to breakage than copper wire or coaxial cable. Also, fiber has a service life of 25-35 years.
There's less attenuation with fiber, meaning there's a greatly reduced chance it will experience signal loss.
With Dense Wave Division Multiplexing (DWDM), the fiber's light source can be divided into as many as eighty (80) wavelengths, with each carrying separate, simultaneous signals.
Call on the experts
If you have questions about how optical networking can help your organization get the most out of optical networking, contact The GDT Optical Transport Team at Optical@gdt.com. They're comprised of highly experienced optical engineers and architects, and support some of the largest enterprise and service provider networks in the world.